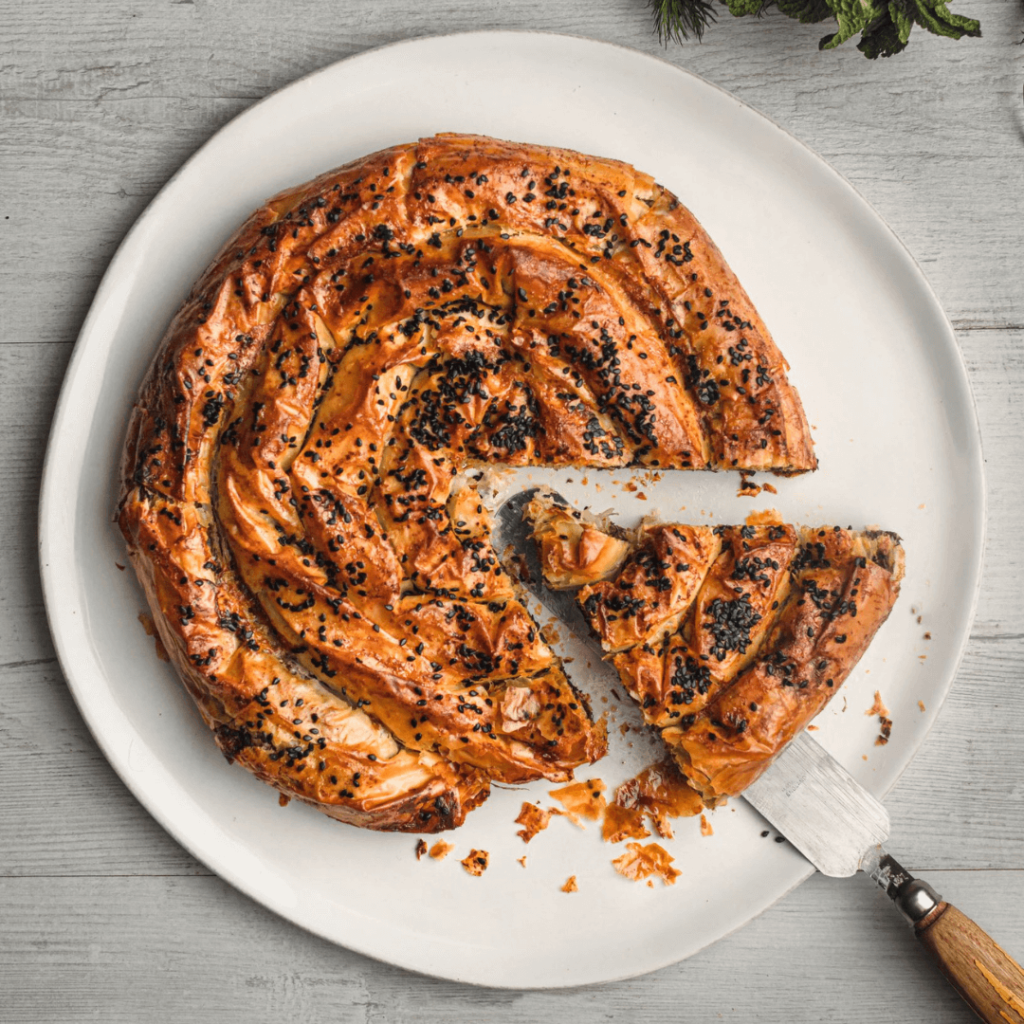 METHOD
Place the nettles, spinach and wild garlic into a perforated steam tray and wilt at 90°C steam for 1 minute. When cool enough to handle, squeeze out as much liquid as possible, chop roughly and keep aside.
Add the butter into a large frying pan over a medium heat and add the spring onions, sweat gently for a few minutes and add all of the chopped greens, cooking for a further 10 minutes to make sure any excess moisture evaporates.
Combine the greens with the remaining ingredients, reserving ¼ of the beaten egg for later. Do not be afraid of overmixing.
To begin shaping, roughly divide the filling into 5. Take a sheet of filo and lay it on the counter, long side nearest you. Brush liberally with the melted butter and then lay another sheet on top. Take 1/5 of the filling and spoon it along the bottom edge, leaving a 2cm gap either end. Spread the mixture upwards, around half way up the sheet and then roll up from the bottom. Brush some melted butter onto a baking tray, gently lift your first roll onto the tray and begin shaping it into a swirl. It may crack or split, but just hide these underneath. Repeat these steps, tucking the end of the roll into the open end of the previous roll until you have used all pastry and filling. Brush the rest of the melted butter all over the spiral, followed by the reserved egg. Sprinkle with the sesame seeds.
Preheat your Miele Combination Steam Oven to the Combi Fan Plus 190°C + 0% Humidity setting. Bake for 40-50 minutes, until the pastry is golden and crisp. Once baked, let sit for 10 minutes before serving. Alternatively, this can be cooked in a Miele Oven on Fan Plus 190°C for the same length. If available, activate the crisping function.
RECIPE INFORMATION
This traditional Greek spinach pie dish makes for a delicious savoury lunch and makes the most of wild nettles, currently in season.
INGREDIENTS
For the filling
30g butter
2 bunches spring onions, sliced
200g nettles
200g wild garlic
100g spinach
100g flat leaf parsley, leaves picked
Large bunch of chives, finely chopped
Large bunch of chervil, finely chopped
Large bunch of sorrel leaves, thick stems removed and chopped
Small bunch of dill, finely chopped
Small bunch of mint, finely chopped
300g feta (or British ricotta), crumbled
2 tsp freshly ground pepper
2 large eggs, beaten
Salt
For the pastry
10 sheets filo pastry (300g)
70g butter, melted
2 tbsp. black sesame seeds or nigella seeds
Allergens highlighted in bold.