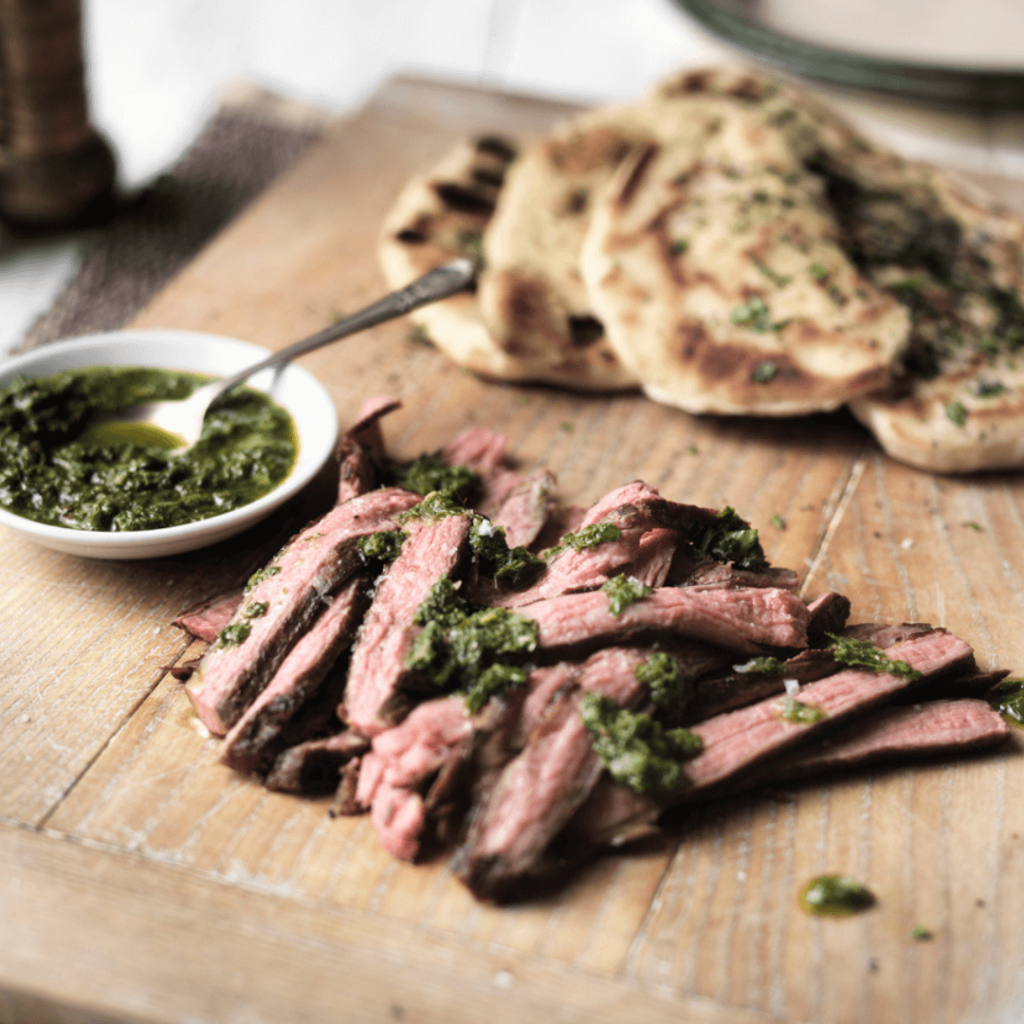 METHOD
For the flank steak
Season the flank steak with salt and pepper, place in a vacuum bag and in the Miele sous vide vacuum drawer. Vaccum pack on setting 3. Place the flank steak in a steam oven and steam on 54°C for 4 hours.
For the yoghurt flatbreads
Sieve together the dry ingredients into a food mixer bowl. Make a well in the middle and pour in the yoghurt and water. Mix all the ingredients together using a dough hook attachment on the mixer and knead on low speed for four minutes or until the dough comes together.
Cover the dough with cling film and leave to rest for an hour in the fridge.
When ready, remove the dough from the fridge, divide into balls around the size of a walnut and and roll out with a rolling pin.
Preheat a large frying pan over a medium high heat (or if using TempControl select setting 2), add a little oil to the pan and fry the flatbreads for about four minutes, turning them occasionally.
When cooked, brush them with a little butter and sprinkle the poppy seeds and parsley on top. Keep warm.
For the wild garlic chimichurri
Place the wild garlic and mint leaves together in a food processor and pulse to chop. While to food processor is still on, add the olive oil a little at a time, followed by the red wine vinegar and lemon. Taste for seasoning and keep aside until needed.
To serve
Preheat a large frying pan over a high heat and when ready, sear the flank steak for one minute on each side. At the very end of cooking add the butter to the pan, and as it foams, use to baste the steak.
Allow the meat to rest on a board for five minutes, slice on the diagonal and serve with the flatbreads and chimichurri dressing.
RECIPE INFORMATION
The steak has been cooked to perfection thanks to the Miele Sous Vide Vacuum Drawer, which is great for marinating meat. As the air is removed, flavours are intensified giving fantastic results
INGREDIENTS
For the flank steak
500g flank steak
2 tbsp unsalted butter
Salt and pepper
For the yoghurt flatbreads
125g self-raising flour
125g strong white flour
1 tsp baking powder
1 tsp sea salt
90ml water
75g natural yoghurt
1 tbsp poppy seeds
2 tbsp parsley, roughly chopped
For the wild garlic chimichurri
30g wild garlic leaves
Small bunch of mint, leaves picked
60ml olive oil
2 tsp red wine vinegar
½ lemon, juice only
Salt and pepper
Allergens highlighted in bold.