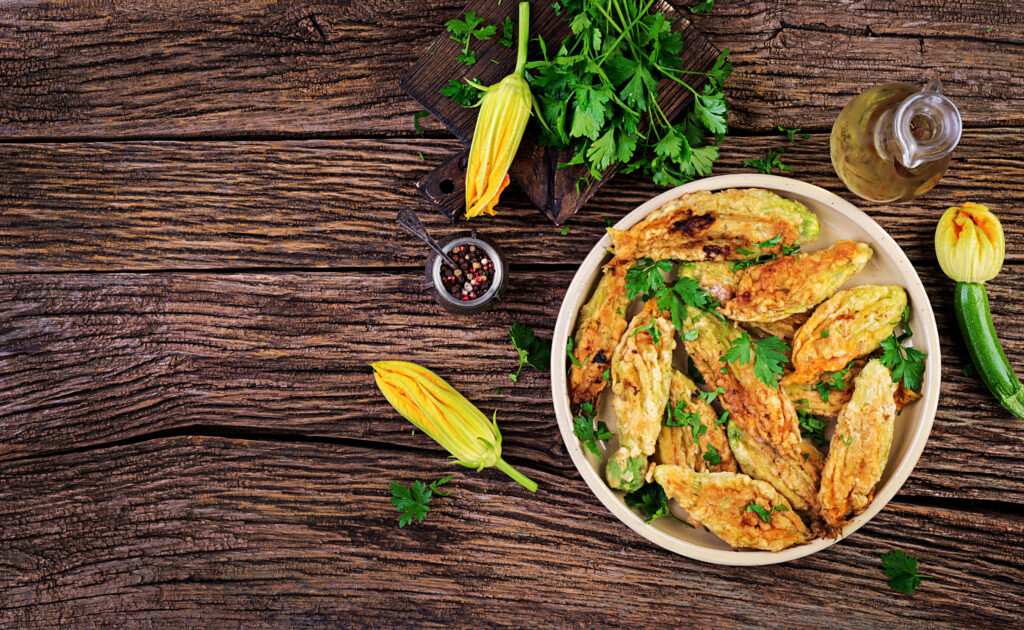 METHOD
For the filling, simply combine everything in a mixing bowl until smooth. Check the seasoning and transfer into a piping bag. Fill the flowers with the mixture until three quarters full and twist the top of the flowers.

For the puree, place the courgette, shallot and garlic in a solid steam container and cook at 90°C for 10 minutes. When ready, blend with the butter until very smooth and check the seasoning. Keep warm until needed.

For the tomatoes, mix everything together with some salt and pepper in a small bowl and leave to one side until needed.

Place the courgette stems on a perforated container and steam at 90°C for 5 minutes.

Heat up some sunflower oil in a saucepan over a high heat, mix all the batter ingredients together and dip each flower into the batter. When the oil is hot enough, fry them until lightly brown and drain into some kitchen paper.

To serve, spoon some of the puree onto each plate, followed by the flowers and courgettes, dress with the tomato salad and garnish with some purple basil. Serve.
RECIPE INFORMATION
Serves: 4
A celebration of summer, light and crispy courgette flowers filled with feta, herbs and lemon are served with a garlic-infused yellow courgette puree and tangy tomato salad
INGREDIENTS
8 courgette flowers, stem removed and flower detached (allow 2 per person)
For the filling
200g feta cheese
3tbsp. Greek yoghurt
Small bunch of fresh chives, finely chopped
Small bunch of fresh dill, finely chopped
1 lemon, zest only
For the courgette puree
1 large yellow courgette, roughly chopped
1 shallot, roughly chopped
2 garlic cloves, crushed
2tbsp. unsalted butter
For the batter
100g cornflour
100g self raising flour
225g sparkling water
Sunflower oil, for frying
For the tomato salad
250g mixed heritage tomatoes, roughly chopped
3tbsp. extra virgin olive oil
1tbsp. Cabernet Sauvignon vinegar
To garnish
Purple basil leaves
Allergens highlighted in bold.