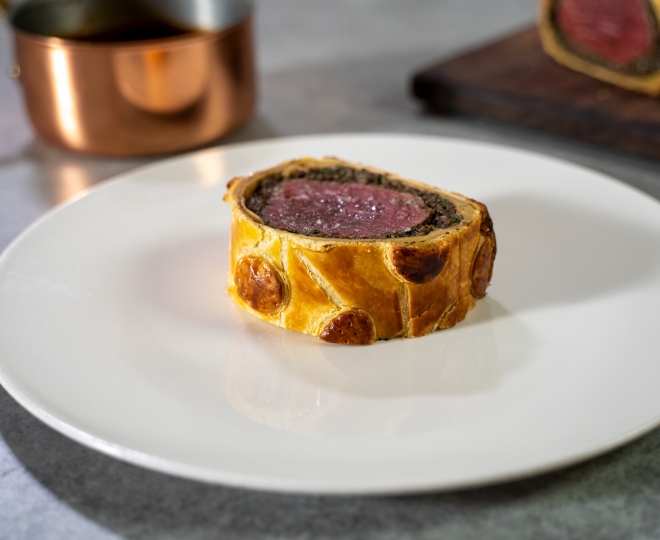 Base elements: 
Place a pan on the heat and wait until it is smoking hot. Add some oil, season the meat, then brown the beef fillet all over, as quickly as possible.  

Chill in the fridge 

In a separate pan, add the butter and cook the shallot and garlic over a medium heat until soft. 

Add the mushroom mix and increase the heat. Cook out until all the liquid has evaporated, stirring constantly.  

As the mix turns dark brown, add the alcohol and allow to reduce completely. 

Finish with the chopped herbs, salt, ground pepper and some lemon juice. Chill in fridge 
Stage 1 of build: 
Roll a sheet of clingfilm on a bench. 

Place the crepes down first, overlapping. 

Add the mushrooms and spread an even layer, approx. 1cm thick, don't spread to the edge of the crepes, leave about an inch. 

Place the browned beef fillet in the middle  

Roll the crepes over everything, into a cylinder shape, us the clingfilm to tighten the roll. 

Continue rolling the clingfilm around to tighten the  roll into a sausage shape, twist both ends around and place in the fridge for 1 hour to set. 
Stage 2 of build: 
Roll a sheet of clingfilm on the bench. 

Place a sheet of puff pastry on the clingfilm  

Remove the beef roll from its clingfilm, it will hold in a sausage shape, and place on the puff pastry 

Brush the exterior of the puff with egg yolk 

Roll the puff over the beef roll in the same way as before, making sure to tighten the ends and leave no holes. Roll the clingfilm to tighten and return to the fridge to set for an hour 
Stage 3 of build: 
Remove the pastry and beef roll from the clingfilm. 

Brush all over with egg yolk and dry 

Brush a second layer with egg yolk and dry 

Decorate the wellington using cutters or simply by scoring the pastry with a knife. Its now ready for the oven. 
Cooking: 
Option 1: Bake at 220c for 22mins and rest for 10mins before carving 

Option 2: Place a probe into the centre of the beef, cook till core temp of 36c, remove from oven and allow to rest until the temp reaches 52c.

Carve 
RECIPE INFORMATION
Difficulty: Difficult
Serves: 4
INGREDIENTS
1kg roll beef fillet, trimmed  

3 large crepes  

4 shallots, finely diced 

3 cloves garlic, diced 

30 button/chestnut/mixed mushrooms, blitzed to fine crumb 

100ml madeira/brandy 

30g butter 

Large handful parsley, chopped 

Large handful tarragon, chopped 

500g sheet puff pastry