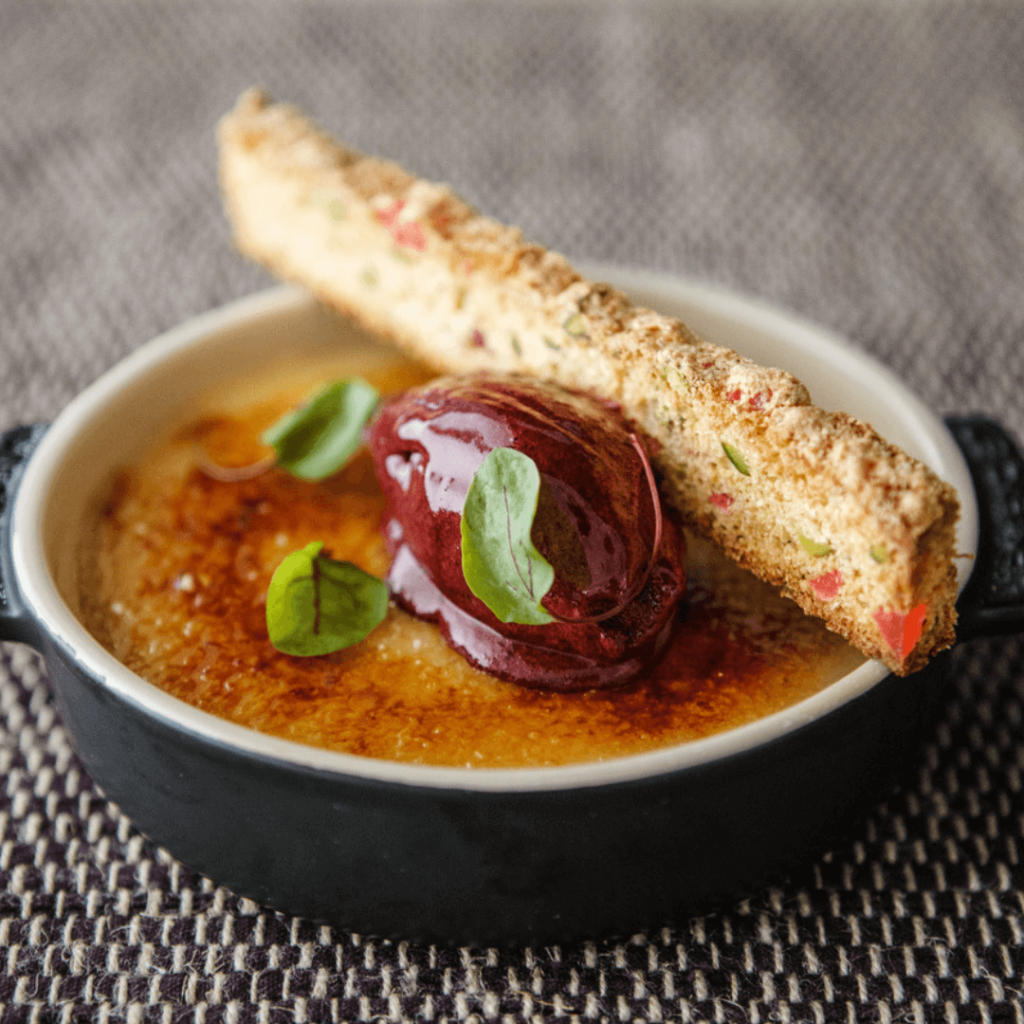 METHOD
For the coconut crème brulée, whisk the egg yolks and sugar lightly, add the cream, coconut milk and rum and stir gently. Pour the mixture into small serving bowls, cover them with foil, transfer into a Miele Steam Oven and cook for 1 hour on 80°C. Remove from the steam oven, remove the foil and set the mixture in the fridge for at least an hour.

For the blackcurrant sorbet, place the water and sugar into a saucepan over a medium heat and simmer until syrupy. Allow to cool, combine with the purée and lemon juice, then churn using an ice cream machine. Freeze until needed.

For the pistachio and cherry biscotti, preheat a Miele Oven to Fan plus 180°C. Combine all the dry ingredients together in a bowl, add the eggs and remaining ingredients and mix until they come together.

Divide the mixture into two and roll into long sausages, place onto the baking tray and bake for 20 minutes.

When ready, allow to cool on a wire rack for 15 minutes, and then, cut into thin, long slices. Place once again onto the baking tray and bake for another 10 minutes or until lightly browned. Set aside.

To serve, remove the crème brulée from the fridge, scatter 2 tablespoons of sugar onto each one and blow torch the sugar until browned. Add a spoonful of blackcurrant sorbet on top. Lastly place a slice of biscotti on top followed by a few sorrel leaves.
RECIPE INFORMATION
Serves: 4
Indulge in this classic French dessert with a fruity twist. In-season blackcurrants compliment the sweet and distinct flavour of coconut while a pistachio and cherry biscotti adds a satisfying crunch.
INGREDIENTS
For the coconut crème brulée
180g golden caster sugar
4 egg yolks
200ml double cream
100ml coconut milk
2tbsp. white rum
Caster sugar, for the topping
For the blackcurrant sorbet
100ml water
100g caster sugar
250g blackcurrant purée
½ lemon, juice only
For the pistachio and cherry biscotti
200g plain flour
175g caster sugar
1 tsp baking powder
½ tsp salt
½ orange, zest only
2 eggs, lightly beaten
75g pistachio nuts, roughly chopped
40g desiccated coconut
30g glace cherries

To garnish
Baby sorrel leaves
Allergens highlighted in bold.