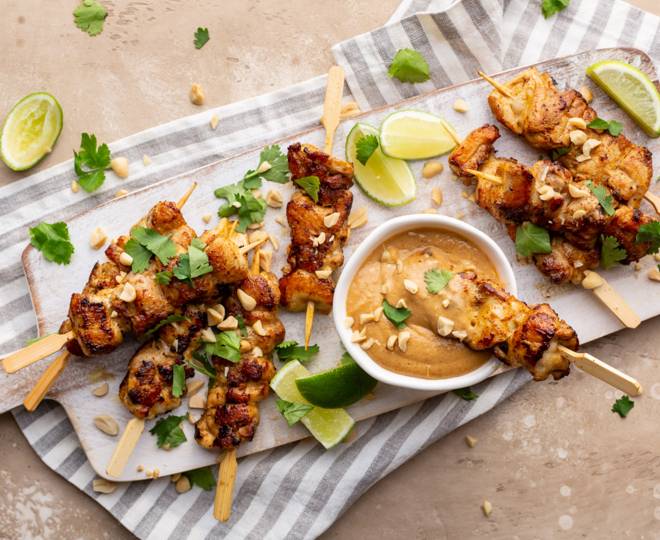 Check out this tasty recipe from www.ilovecooking.ie
Chicken Satay with Peanut Sauce – Tender chicken skewers with the ever-popular peanut sauce can be served for nibbles or a starter, or made into a main meal with a side of rice, wedges of juicy tomato and thick cucumber slices. You can use chicken breast or thighs for the skewers, but our preference is the thigh meat. It's more tender and juicier with less chance of becoming dry if over-cooked, and, thigh meat holds up well to re-heating the next day in the small chance you have any leftovers. The chicken needs to be marinated for at least 1 hour before cooking, but better still if left overnight in the fridge, perfect for preparing ahead for a barbeque. We recommend only using a 100% natural peanut butter for the sauce for the best flavour.
1. For the chicken, remove skin and trim away any fatty bits, then cut into bite-size cubes. About 5 pieces for thighs, 10 for breast meat. Set aside.
2. In a medium-sized bowl, mix together the marinade ingredients until smooth. Tip: If your coconut milk is separated into the liquid with the hard fat on top, first empty this into a small bowl or jug and mix with a fork or small whisk until smooth. If using a 400g tin where part of it is used for the marinade and peanut sauce, save the rest in the fridge (for up to a week) to use later.
3. Add the chicken to the marinade and toss well to make sure all the meat is coated. Cover the bowl and leave in the fridge for at least 1 hour, but can be left overnight to cook the next day.
4. For the peanut sauce, mix together all the ingredients in a small saucepan until smooth then place over medium heat.
5. When it comes to a simmer, lower heat to medium-low and cook, stirring occasionally, for about 5 minutes. Tip: It should thicken up but still be pourable, so add water if it thickens too much.
6. Cover the pot with a lid and keep sauce warm on lowest heat until ready to serve.
7. For the chicken, thread 5 pieces of chicken onto short bamboo skewers. Tip: If cooking on a barbeque the skewers should be soaked in water for an hour beforehand.
8. If cooking on the stovetop, heat a large pan over medium-high heat with a drizzle of olive oil.
9. Cook chicken skewers on one side for 2-3 minutes and then another 2-3 minutes when turned over. Cook the sides for another 1 minute each. Tip: Do this in batches if your pan isn't big enough, keeping the cooked chicken warm on a plate covered with tinfoil.
10. Serve skewers while hot, garnished with chopped peanuts and fresh coriander, wedges of lime for squeezing over the top, and the peanut sauce on the side in a bowl for dipping.
11. You will likely have leftover peanut sauce, keep this in a sealed container in the fridge for up to a week, and better yet, buy extra chicken to marinade and assemble skewers all at the same time, but putting the extra raw chicken skewers in a sealable freezer bag for later. The peanut sauce will thicken when cooled, so gently reheat in a saucepan over low heat, or for 15-20 seconds in the microwave.
RECIPE INFORMATION
Difficulty: Medium
Serves: 4
INGREDIENTS
For the chicken & marinade:
 8 skinless & boneless chicken thighs (or 4 chicken breasts)

 60ml canned coconut milk

 1 tbsp mild curry powder

 2 tsp red curry paste (rendang)

 1 tsp white sugar

 1 tsp sea salt flakes
Peanut sauce:
 100g smooth natural peanut butter

 160ml canned coconut milk

 85ml water

 25g sugar, white or golden

 1 tbsp red curry paste (rendang)

 1 tbsp fresh lime juice

 1 tsp soy sauce

 ½ tsp sea salt flakes
To serve:
Small handful roasted peanuts, roughly chopped

 Lime wedges

 Fresh coriander, roughly chopped