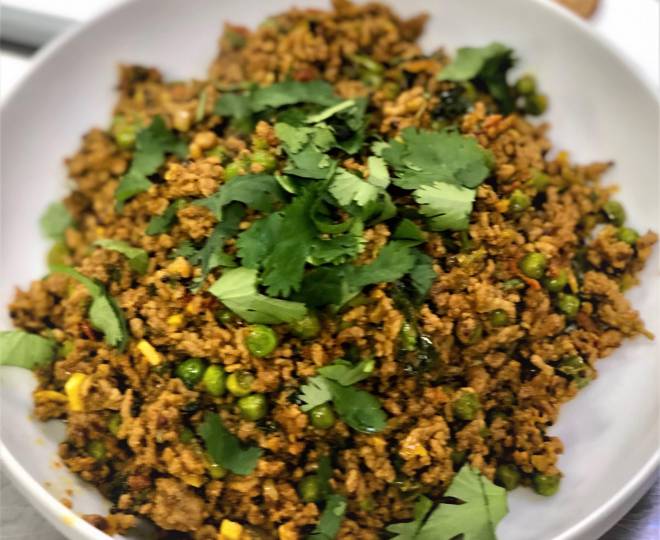 Aloo Keema is a popular Pakistani & North Indian dish consisting of curried, minced meat (keema) and potatoes (aloo). This classic combo is deeply flavorful, comforting that you need to try!
Add olive oil into a heavy based pan over medium heat.

Add cumin and mustard seeds and cook until the mustard seeds begin to pop.

Add chopped onions and sauté for several minutes until the onions have caramelised, add ginger, garlic, green chilli and cook for 2 minute.

Add 2tbsp oil into the centre of the pan and dry fry the turmeric, garam masala and salt for 30 seconds.

Add chopped tomatoes and tomato puree and cook for about 5 minutes, stirring constantly.

Add minced lamb, stir and cook over medium heat for 5 minutes.

Add 4 tbsp water and cook for another 2 minutes, stirring constantly.

Add chopped potatoes and frozen garden peas. Mix well and cover with a lid. Cook for 30 minutes over low heat or until potatoes are tender.

Turn off heat. Mix well. Sprinkle with coriander right before serving.

This is great served with naan, chapati or rice.
RECIPE INFORMATION
Difficulty: Medium
Serves: 4
INGREDIENTS
1 tbsp olive oil

3 cloves garlic

Thumb tip size ginger

2 green chillies (deseed for less heat)

½tsp cumin seeds

½tsp mustard seeds

450g mince lamb or mice beef

1 medium onion chopped

½tsp turmeric powder

1 tsp garam masala powder

1 tsp salt

2/3   plum tomatoes

2 tbsp tomato puree

300g potatoes chopped

150g peas frozen

3tbsp coriander chopped