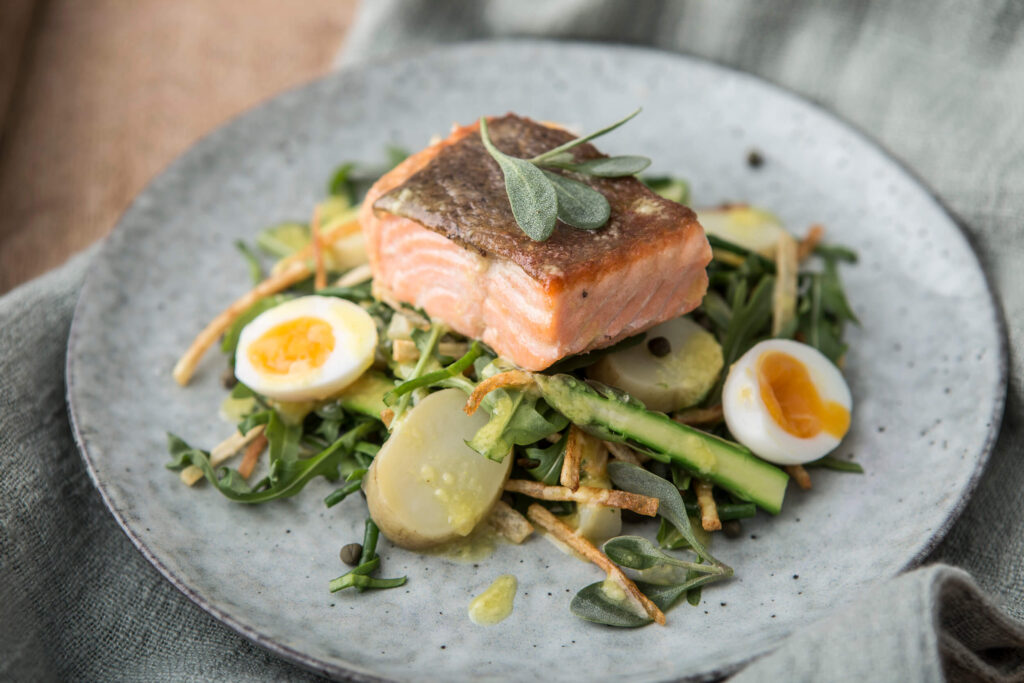 METHOD
To make the salad dressing, place the crushed garlic, mustard, sugar and vinegar in a medium bowl. Whisk to combine, then gradually whisk in the oil and season to taste. Set to one side.

Place the Jersey Royals on a Perforated Steam Tray and cook in a Miele Steam Oven for two minutes at 100°C. When the oven beeps (leaving the potatoes in the oven), add the samphire, quails eggs and asparagus to a separate perforated tray and cook for 1 minute at 100°C. If you don't have a steam oven, place the Jersey Royals in a saucepan with cold water, bring to a boil and cook for 4 minutes. In the meantime, bring another saucepan with water up to a boil and cook the samphire, asparagus and eggs for one minute each.

When cooking has finished, remove everything from the steam oven. Fill a large bowl with very cold water and some ice if you have it. Place the potatoes, samphire, asparagus and eggs into the water to cool them down quickly. Drain in a colander, then spread out on a clean tea towel to dry.

Place the sea trout onto one of the Perforated Steam Trays and steam for 4 minutes at 85°C, skin side up. If you don't have a steam oven, preheat a frying pan over a medium heat. Brush the skin of the salmon with a little vegetable oil and cook skin side down for about 4 minutes. Turn the fish, and cook for a further 3 minutes.

At this stage, if you are making the chips, place the thinly sliced matchsticks in the steam oven and steam for 1 minute. Then, heat the oil to 190°C in a large saucepan and fry the potato matchsticks until golden brown. Drain on a plate lined with some kitchen paper, season with salt. Set aside.

Returning to the salad, in a large bowl, mix the drained vegetables, sea herbs and watercress or rocket and capers. Peel the quail's eggs and set to one side.

If you would like a crispy skin on your trout (optional) put the flour onto a plate. When the trout has finished in the steam oven, remove and place the fish, skin side down in the flour. Heat 2 tbsp of sunflower oil in a frying pan on level 6 or 7 of a Miele Induction Hob and place the trout skin side down in the hot pan. Cook until golden brown.

To serve, arrange the vegetable and herb mixture in the centre of the plate and place the trout on top. Cut the quail's eggs in half and arrange around the trout and drizzle with the dressing. Serve the chips in a bowl on the side.
RECIPE INFORMATION
Serves: 4
Subtle and delicate in flavour, Sea Trout works perfectly in this twist on a French favourite, that's ideal for a satisfying lunch or light supper. Cooking fish at low and precise temperatures in the Miele Steam Oven ensures valuable protein and nutrients are preserved as well as ensuring a brilliantly tender texture. Salmon is a great alternative for this dish if Sea Trout is unavailable
INGREDIENTS
1 garlic clove (crushed)
1 tsp English mustard
1 tsp sugar
1 tbsp apple cider vinegar
2 tbsp sunflower oil
200g Jersey Royal potatoes (cut into 1cm cubes or slices)
100g samphire
8 quail's eggs
1 small bunch of asparagus
4 x 175g – 200g sea trout portions
Handful of sea herbs and watercress or rocket
1 tbsp capers
2 tsp plain flour
Salt and pepper to season
Allergens highlighted in bold.