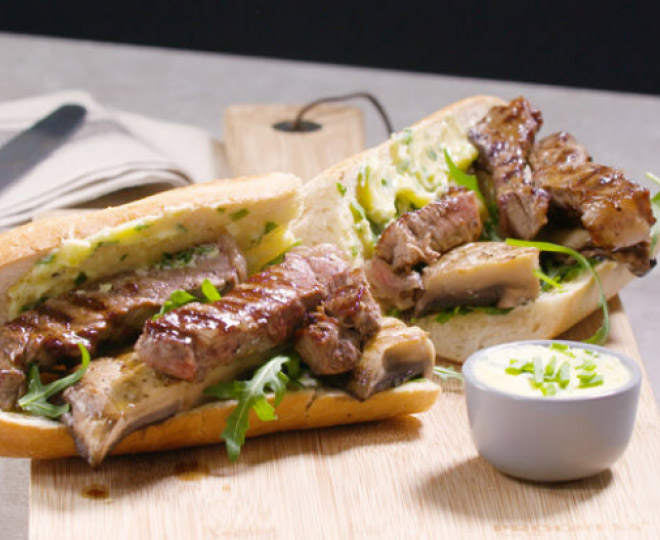 Kevin says…I love using Johnstonebeef.com produce. I am using them in the restaurant and at home through their online ordering system and the top quality of the Irish beef is always impressive.
Preheat the barbecue to medium heat.

In a saucepan, over on the barbecue (or prepared ahead on your cooker), place 1 tbsp. olive oil and add the onions, garlic, and thyme. Cook stirring often for 5-8 minutes until the onions are well coloured and softened.

In the meantime, in a small bowl, combine the mayonnaise, ketchup, Worcestershire sauce, tabasco, cognac. Stir and season well and keep aside until needed.

Using a sharp knife cut the bread roll horizontally. Drizzle with a little olive oil and place on the barbecue for 1-2 minutes until golden brown. Remove and keep aside.

Add the beef minute steaks to the barbecue and grill for 1-2 minutes each side until cooked to your liking. Remove from the grill and build the sandwich by adding in the bread some relish, salad leaves, the beef, the caramelised onions, the Marie rose sauce.

Serve immediately with your favourite sides such as corn on the cob, baked potatoes, grilled vegetables.
RECIPE INFORMATION
Difficulty: Easy
Serves: 4
INGREDIENTS
4 onions, sliced

1 clove garlic, chopped

2 tbsp. olive oil

4 tbsp. mayonnaise

1 tbsp. ketchup

3-4 drops tabasco sauce

½ tsp Worcestershire sauce

1 tsp. brandy

4 bread rolls

4X 120g minute-steak beef

4 tbsp. tomato or burger relish

50g salad leaves