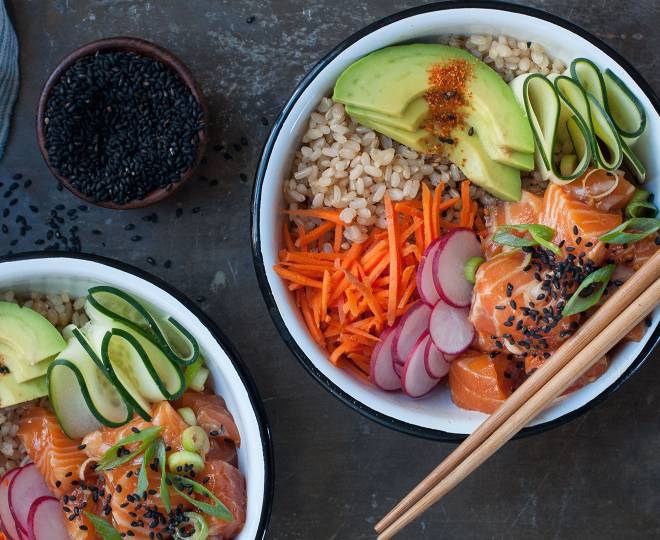 A staple in Hawaii, Poke, known as Hawaiian 'Sushi', has taken health-conscious cities like L.A and London by storm. This Hawaiian Salmon Poke Recipe is quick, easy, and packed with health benefits.
Salmon provides important amounts of the antioxidant amino acid taurine. Salmon is an excellent source of vitamin B12, vitamin D, and selenium. It is a good source of niacin, omega-3 fatty acids, protein, phosphorus, and vitamin B6. It is also a good source of choline, pantothenic acid, biotin, and potassium.
Avocados are a good source of potassium (higher than bananas) avocados contain pantothenic acid, dietary fibre, vitamin K, copper, folate, vitamin B6, vitamin E, and vitamin C. Also Magnesium, Manganese, Copper, Iron, Zinc, Phosphorous, Vitamin A, B1 (Thiamine), B2 (Riboflavin) and B3 (Niacin).
Black Rice contains beneficial antioxidants, anthocyanin. Additionally, contains important antioxidants like Vitamin E, which is useful in maintaining eye, skin, and immune health, very high amounts of flavanoid phytonutrients, a good source of important fibre, substantial mineral content including iron and copper, and even a good source of plant-based protein.
Add your choice of toppings to the basic salmon poke recipe below and prepared to be transported to a sunnier place.
In a bowl, combine soy sauce, sesame oil, rice wine vinegar, Sriracha, sea salt and spring onions. Add cubed salmon and mix gently to combine. It's important to keep the salmon cold, so set aside in the fridge until you are ready to eat.

To assemble, serve slightly cooled rice into a bowl, top with seasoned salmon, avocado, cucumber, roasted seaweed sheets, sesame seeds and spring onions.
RECIPE INFORMATION
Difficulty: Medium
Serves: 4
INGREDIENTS
500g sushi-grade salmon filet, cubed

4 tbsp low-sodium soy or tamari sauce

2 tbsp sesame oil

2 tsp rice wine vinegar

1 Tbsp lemon juice

Pinch sea salt (optional)

½ tbsp Sriracha

2 Tbsp. spring onions, thinly sliced
Serving options
Ripe avocado, thinly sliced cucumber, roasted seaweed sheets, black and white toasted sesame seeds, spring onions, wakame, edamame, mango, pinneaple and sticky black rice.