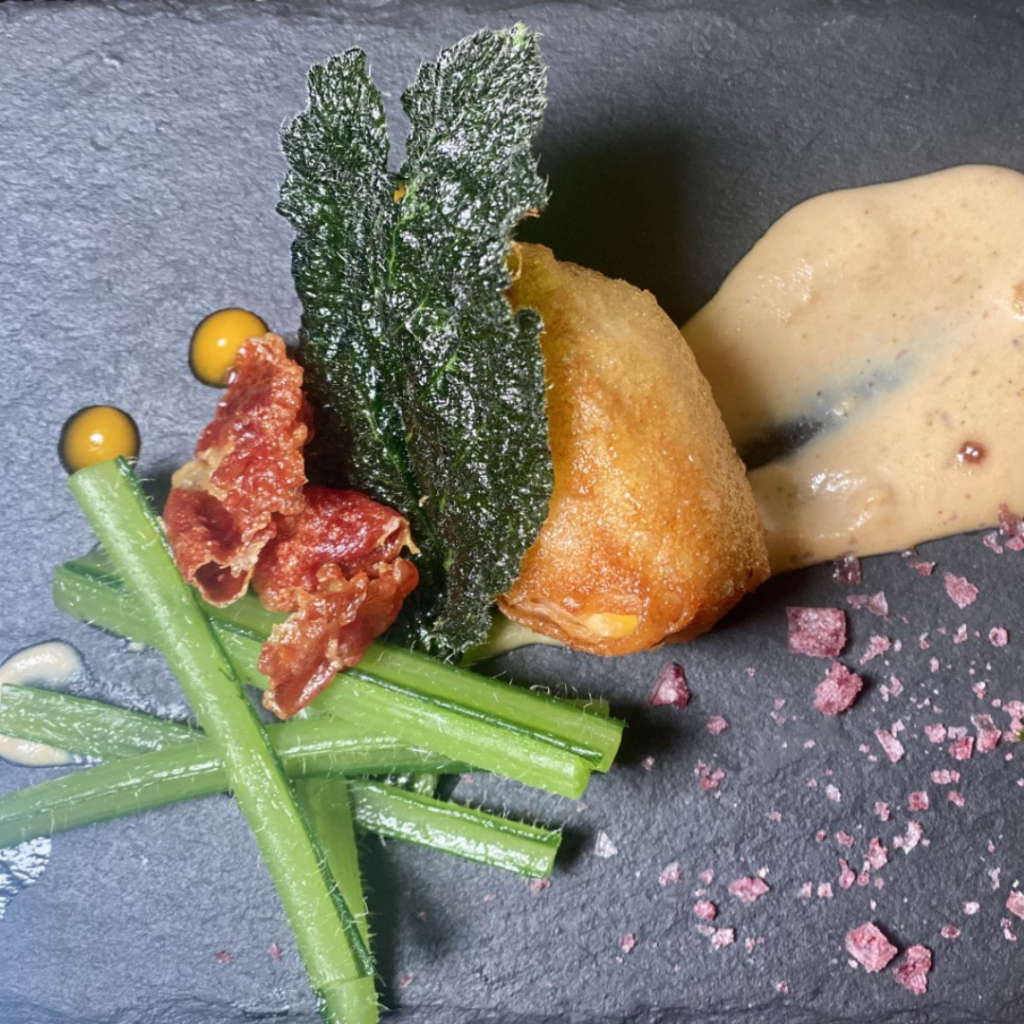 METHOD
Crispy Borage Leaf and Cured Ham
Slice the ham very thinly. Fry the ham and borage leaves in a generous amount of oil
until very crisp. Transfer to a paper towel-lined plate, ensuring that they do not get wet.
Borage and Mushroom Duxelles:
Blanch the borage and mushrooms, then brunoise them. Brunoise a little of the sweet
onion. Fry the borage and mushrooms lightly in oil with the onion. Set aside.
Cheese Sauce:
Melt the "Patamulo" cheese in the cream until there are no lumps and the mixture has
been reduced by approximately half. Set aside.
Carbonara Sauce
Infuse the bacon and D.O. Teruel cured ham in milk for 1 hour. Purée into a light cream
using a chinois strainer. Set aside.
Crispy Pasta Purses:
Cut the sheet pasta and thin-cut bacon into strips approximately 3 cm wide and 10 cm
long. (You will need two of each for every pasta purse.)
Arrange the sheet pasta strips in a cross pattern with bacon strips on top. Place a little
borage and mushroom duxelles in the centre of each cross and top with one raw egg
yolk.
Use a syringe to remove some of the egg yolk and replace it with the cheese sauce.
Wrap each egg in the strips, creating a purse. Fry in a generous amount of oil, ensuring
that the egg yolk does not set completely.
PLATING
Place a little of the ham carbonara on the plate and top with a freshly fried pasta purse. Garnish with the fried borage leaf and ham.
TASTING TIPS
Wear the special boom-bites bib provided with the dish!! Dip the crispy pasta purse in the sauce and eat it in a single bite. The egg will explode in your mouth and mix with the other ingredients. The boom-bites bib is particularly practical if you decide to eat the pasta purse by biting into it rather than all at once, as the egg explosion will happily splash both diner and companions.
RECIPE INFORMATION
Serves: 4
INGREDIENTS
Pasta Philo
Fresh eggs
Mushrooms
Borage
D.O. Fuentes sweet onion
"Patamulo" cheese
D.O. Teruel cured ham
Bacon
Single cream
Milk
Extra Virgin Olive Oil (EVOO)
Allergens highlighted in bold.